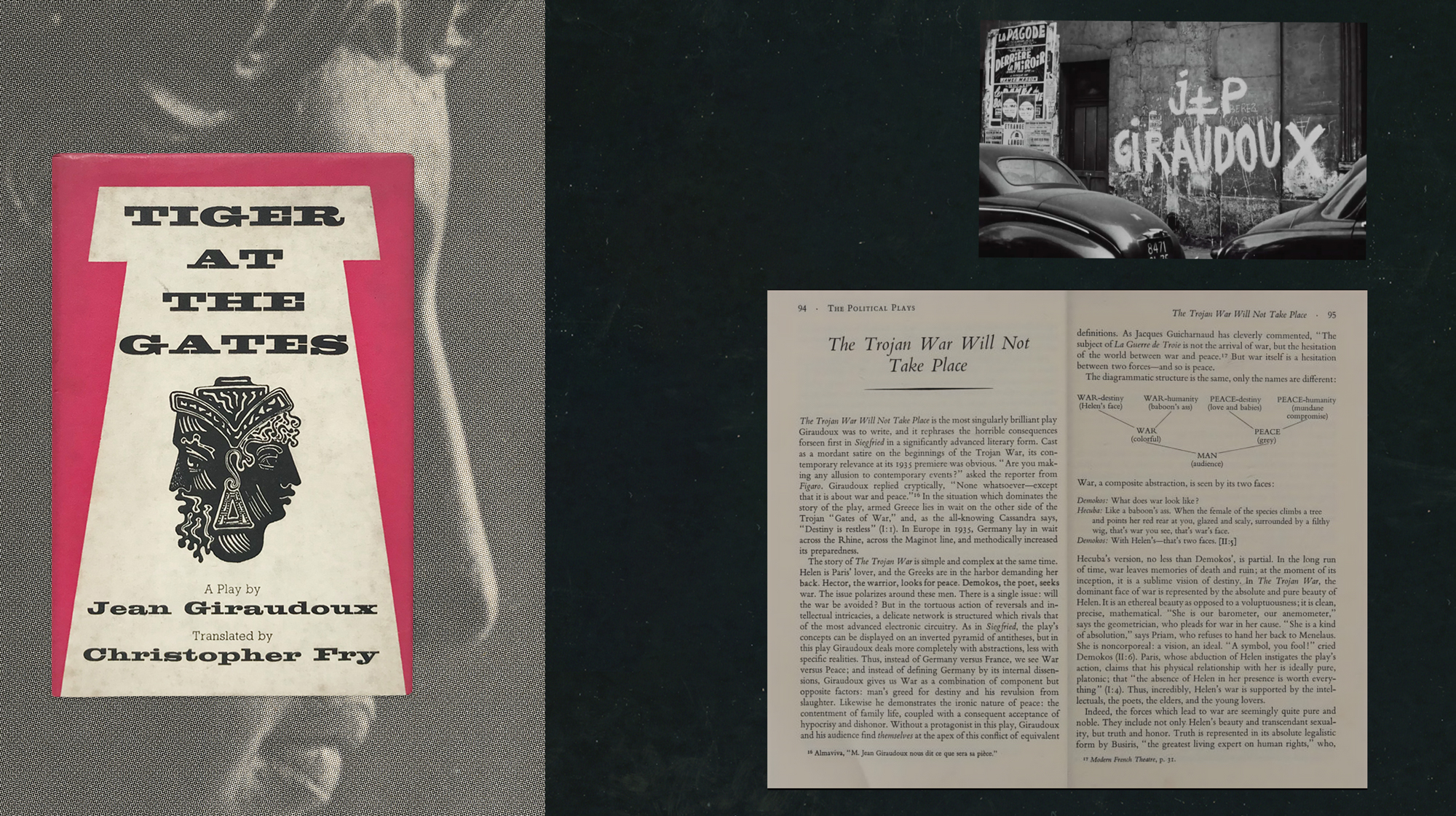 Jean Giraudoux wrote the play La guerre de Troie n'aura pas lieu [The Trojan War Will Not Take Place, which was retitled to Tiger at the Gates by Christopher Fry] between autumn of 1934 and June 1935, at dawn of the Second World War. Giraudoux draws a parallel between the situation in Europe in the 1930s, where everyone saw a new war coming without really preventing it, with the Trojan War in Antiquity. One war is over, another is imminent, in this dramatic situation places Giraudoux the action of his play. The play takes place in the days prior to the outbreak of the Trojan War and narrates the efforts of the military commander Hector, who tries to prevent the war from breaking out with the help of the Trojan women.
In 1952, eight years after Giraudoux's death, Chris Marker wrote about Giraudoux's work and life for Édition du Seuil's series Ecrivains de toujours, entitled Giraudoux par lui-même. In the book, Chris Marker coined the term Generation Giraudoux, a pre-war generation born around 1920 to which he also felt attached to. Marker, who was highly influenced by Giraudoux, stated that for Giraudoux imagination was such an important part of reality, that to deprive oneself of its services seemed to him the worst alienation. Sartre, on the other hand, accused Giraudoux of being unrealistic, and of denying reality.
In occupied France, Giraudoux's behavior was often contradictory and led to cracks in his public image, but the Generation Giraudoux didn't let go of him, for the good reason that for this generation the Third World War became possible, which Marker processed in his legendary film La Jetée. Marker described Giraudoux, who got caught up eventually in the net of politics, as a "political idiot, a blind man who looked after everything on the undermined planet", but also a "literary type who has set himself the goal of leading people to a human world".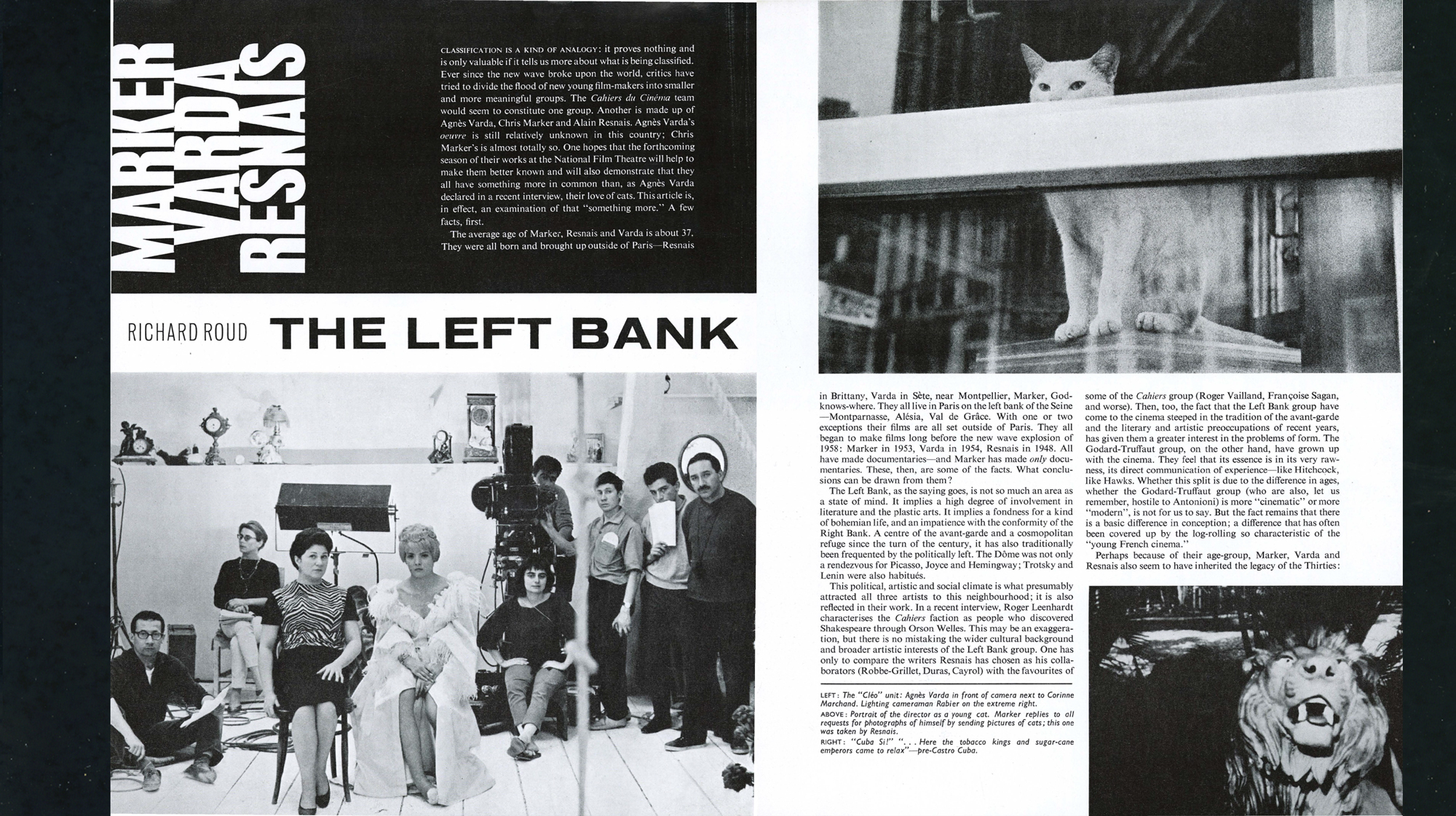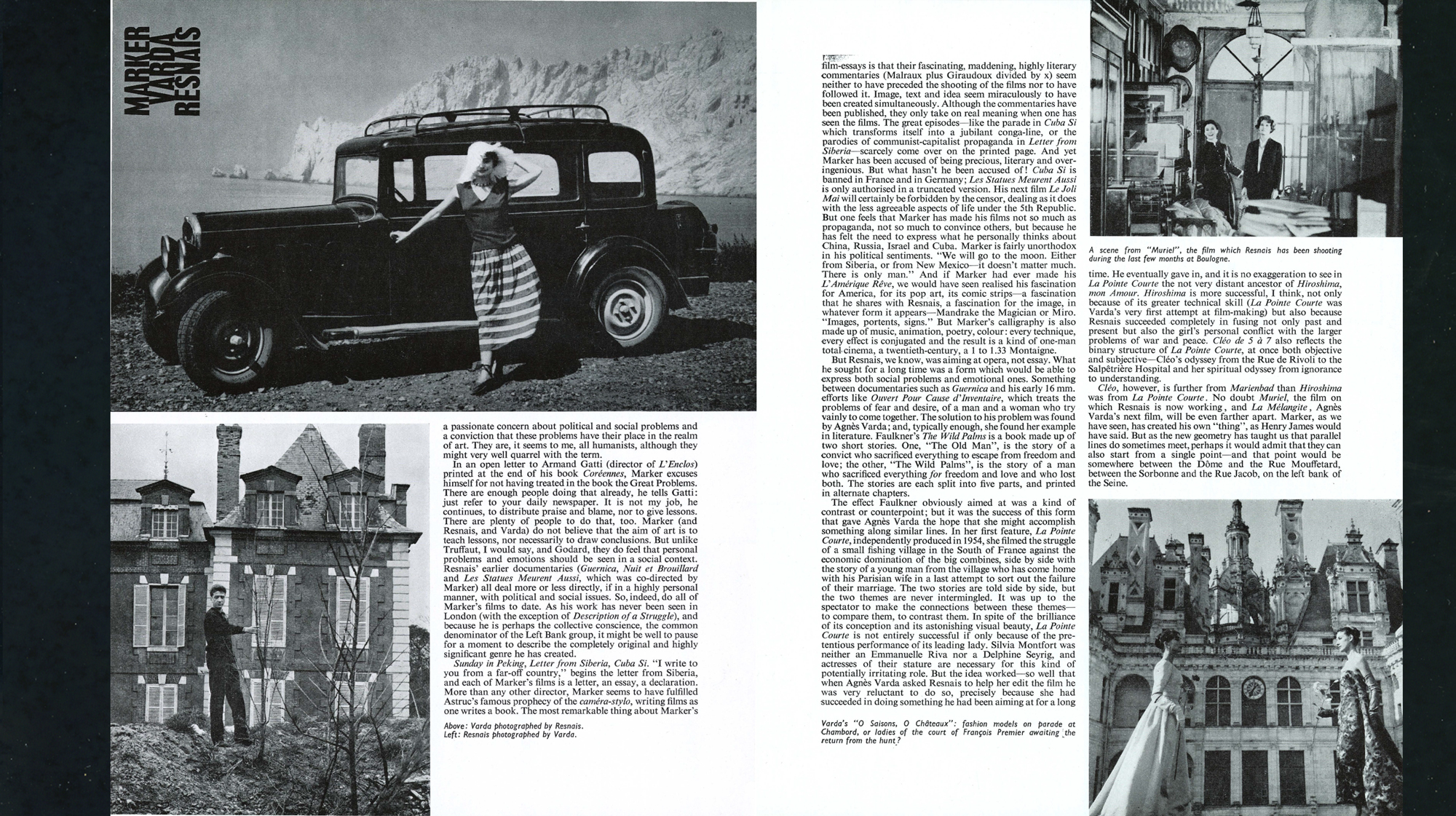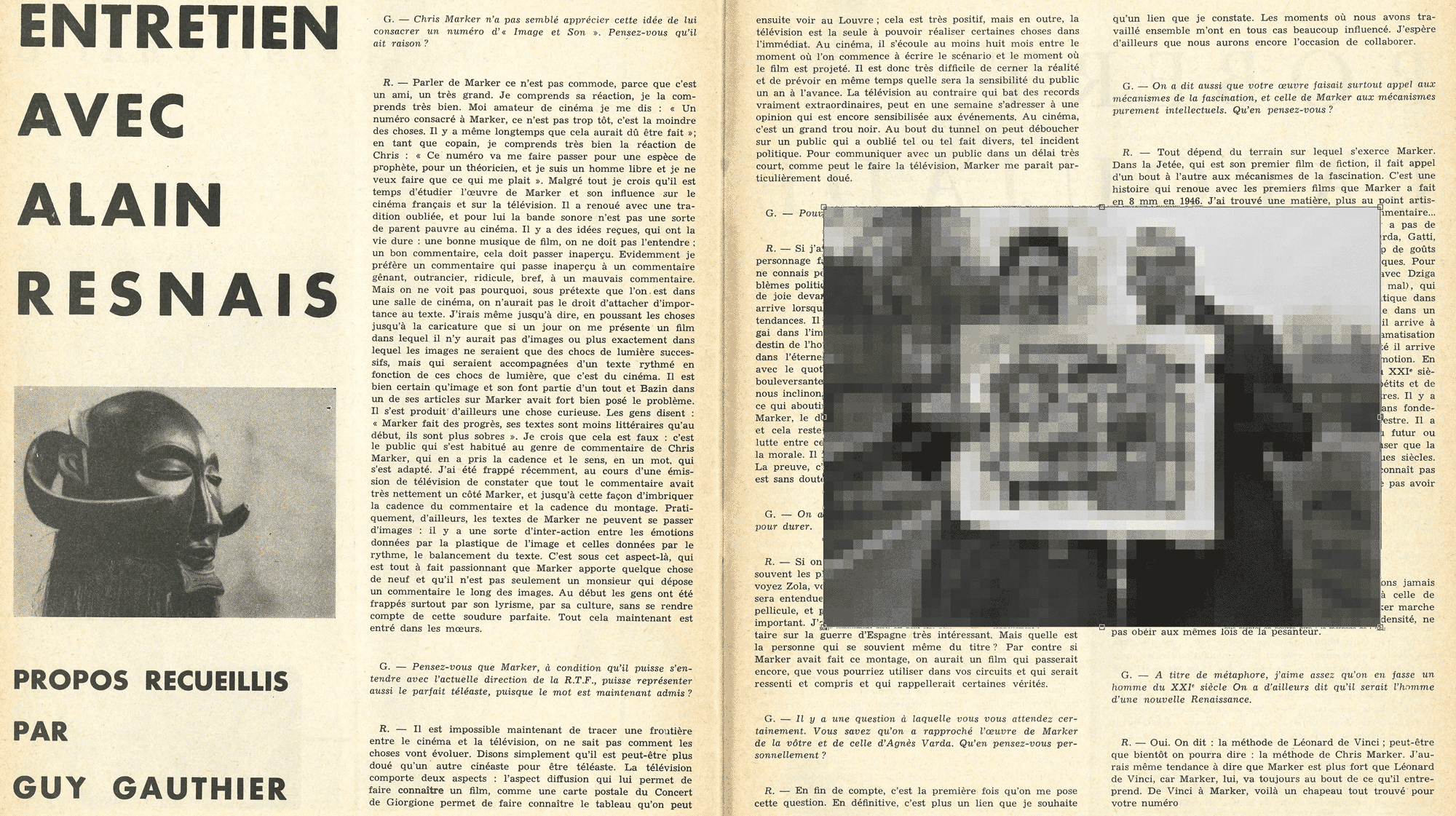 Alain Resnais was commissioned by Argos Films, to create a short film, that should address the horrors of the atomic bomb. Resnais started working with Chris Marker on the project, but Marker dropped out after ten days, not being able to figure out a way to make this film work, yet he recommended Resnais to work with a friend of his, but the friend also left the project after a few months. Resnais came to the point in which he realized, that in the moment he would show something very real on the screen, the horror of it would disappear, therefore he needed to use every means possible to set the viewers' imagination in motion, only suggesting the horror on the screen.
The producers of Argos Films suggested Resnais to work with other writers, and since he had just had read Moderato Cantabile by Marguerite Duras and admired her work, a meeting between Resnais and Duras was arranged. Marguerite Duras called Resnais days after the first meeting to come over and listen to a conversation she recorded between a French woman and a Japanese man in a restaurant, in which the French woman didn't want to eat raw fish, out of fear it might had been irradiated. This conversation was the starting point of the movie and the incredible collaboration between Duaras and Resnais. Resnais once noted, that Duras gave him the Libretto to which he set the images.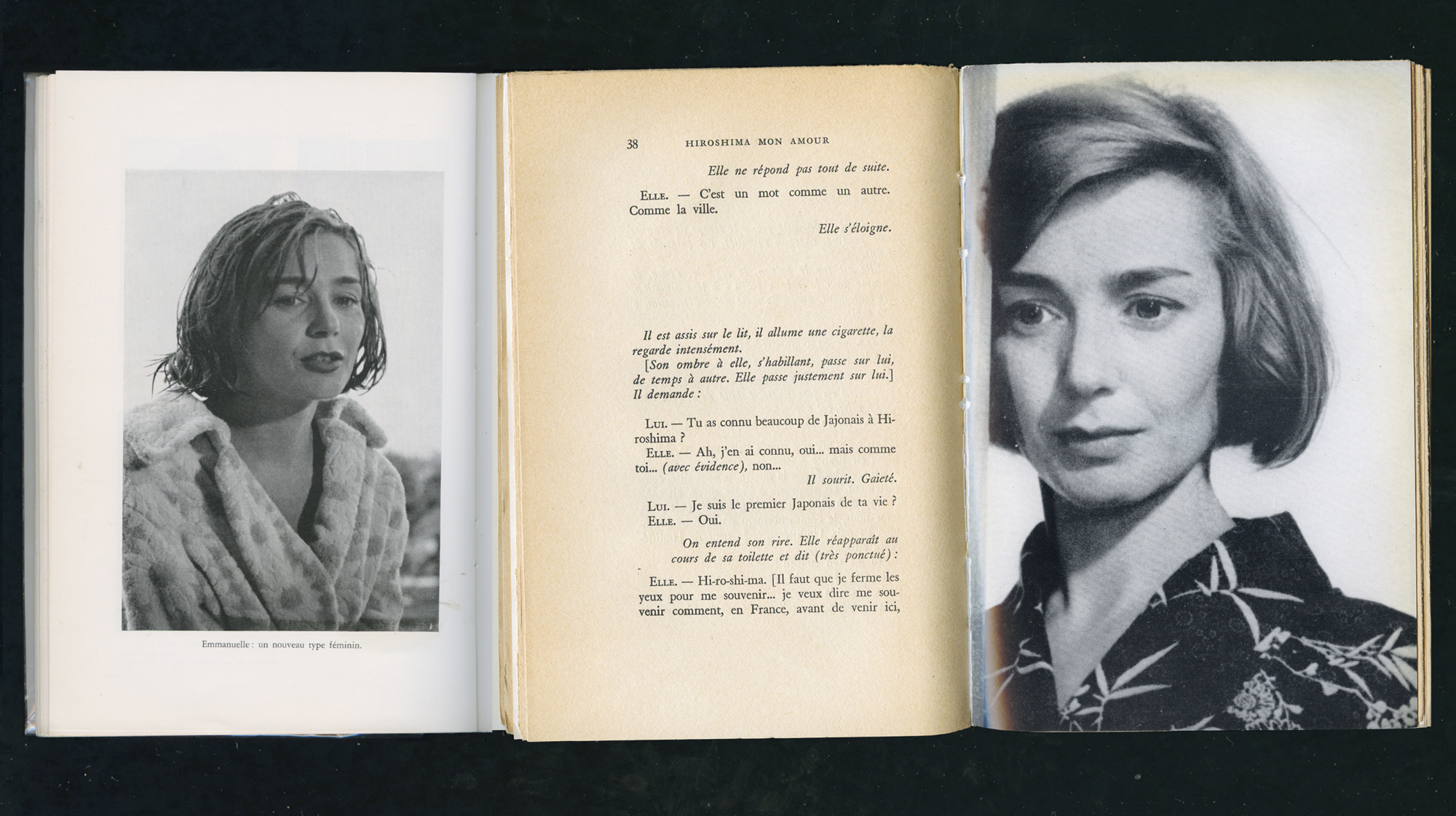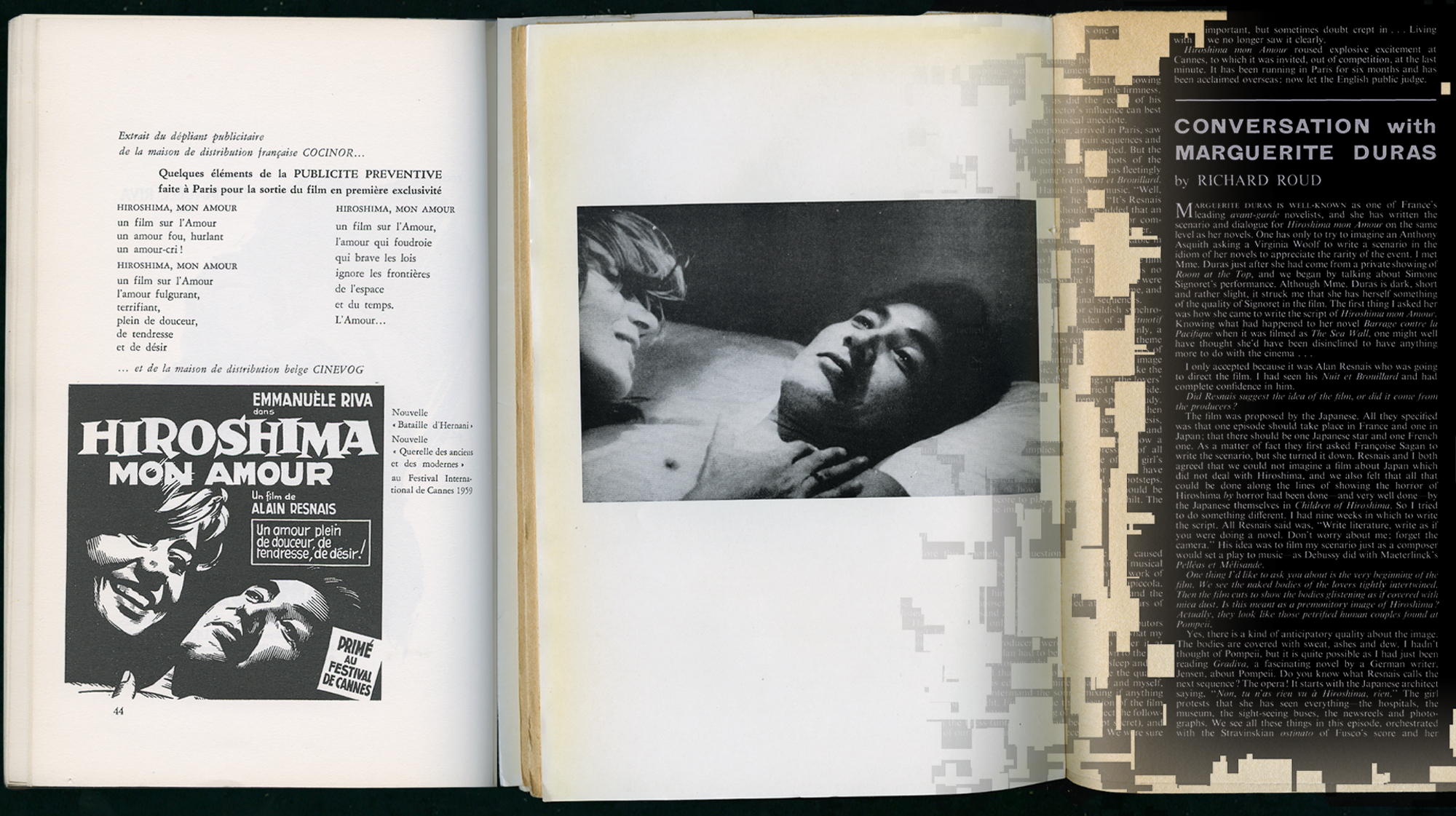 In the winter of 1959 the producers Pierre Courau and Raymond Froment approached Alain Robbe-Grillet, if he would like to meet Alain Resnais with the eventual idea of writing for him. Robbe-Grillet, by this time already one of France's most influential young novelists and leader of the Nouveau Roman, a movement that emerged just before the Nouvelle Vague of French cinema, agreed to a meeting with Resnais. At this meeting, Robbe-Grillet and Resnais talked about the linear storylines of old- fashioned cinema with its chain of all-too-expected events. Both were searching for an alternative approach, more similar to the mind that skips certain passages and repeats and doubles itself.
Inspired by Adolfo Bioy Casares' Invention of Morel, Robbe-Grillet began to write not a story but a direct screenplay, a shot-by-shot description of the film as he imagined it, frame by frame, with the corresponding dialogue and sound. L'Année dernière a Marienbad was shot in 1961 by Alain Resnais, which combined the Nouveau Roman with the Nouvelle Vague, breaking with traditional structures of time more radically than any other film before.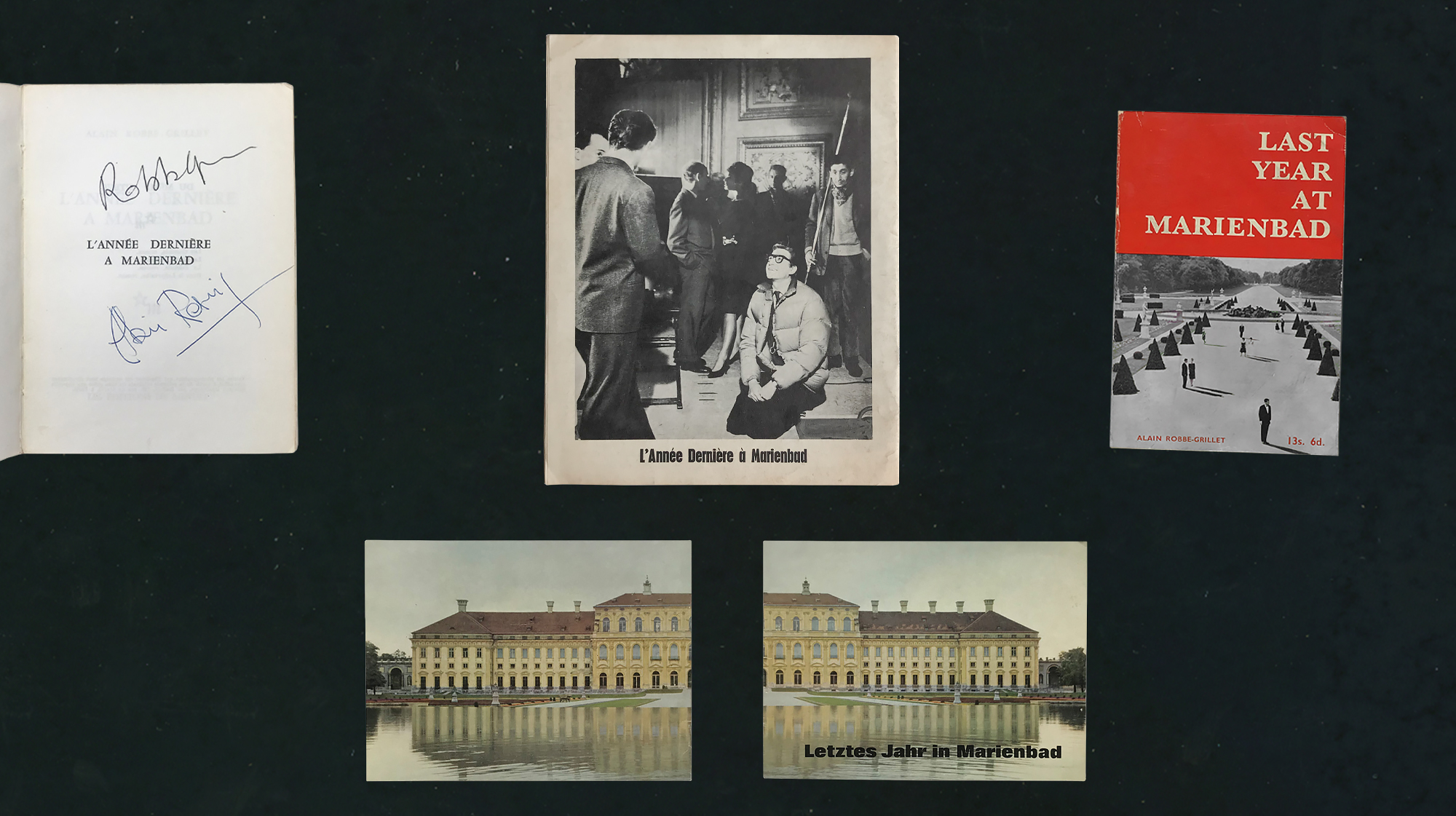 After working together on La guerre est finie and Stavisky (both screenplays written by Jorge Semprun), Reperagés was the third and last collaboartion between Alain Resnais and Jorge Semprun, published in 1974. This time, Jorge Semprun not only contributed a wonderful essay to Alain Resnais images, but also edited and selected all the images included in the book.

The photographs were taken between 1948 and 1971 by Alain Resnais with an old Rollei-Camera he had burrowed from Agnés Varda to make photographic notes of places he found interesting for his upcoming film projects. Some of them, unfortunately, never made it the screen (but at least in this book), like the pulp fiction adventure The Adventures of Harry Dickson, which Resnais planned to shoot in London.

The images of garbage fields on Rat Island, a small island in the East River where a lot of trash from New York ended up, were also intended as a location for a film with the legendary comic author Stan Lee, which was also not realized. Alain Resnais was interested in making a film about pollution and persuaded Stan Lee to write a screenplay for it. The title of the film was The Monster Maker with the idea that all the garbage on Rat Island would gather and form a monster that the hero of the film would have to fight.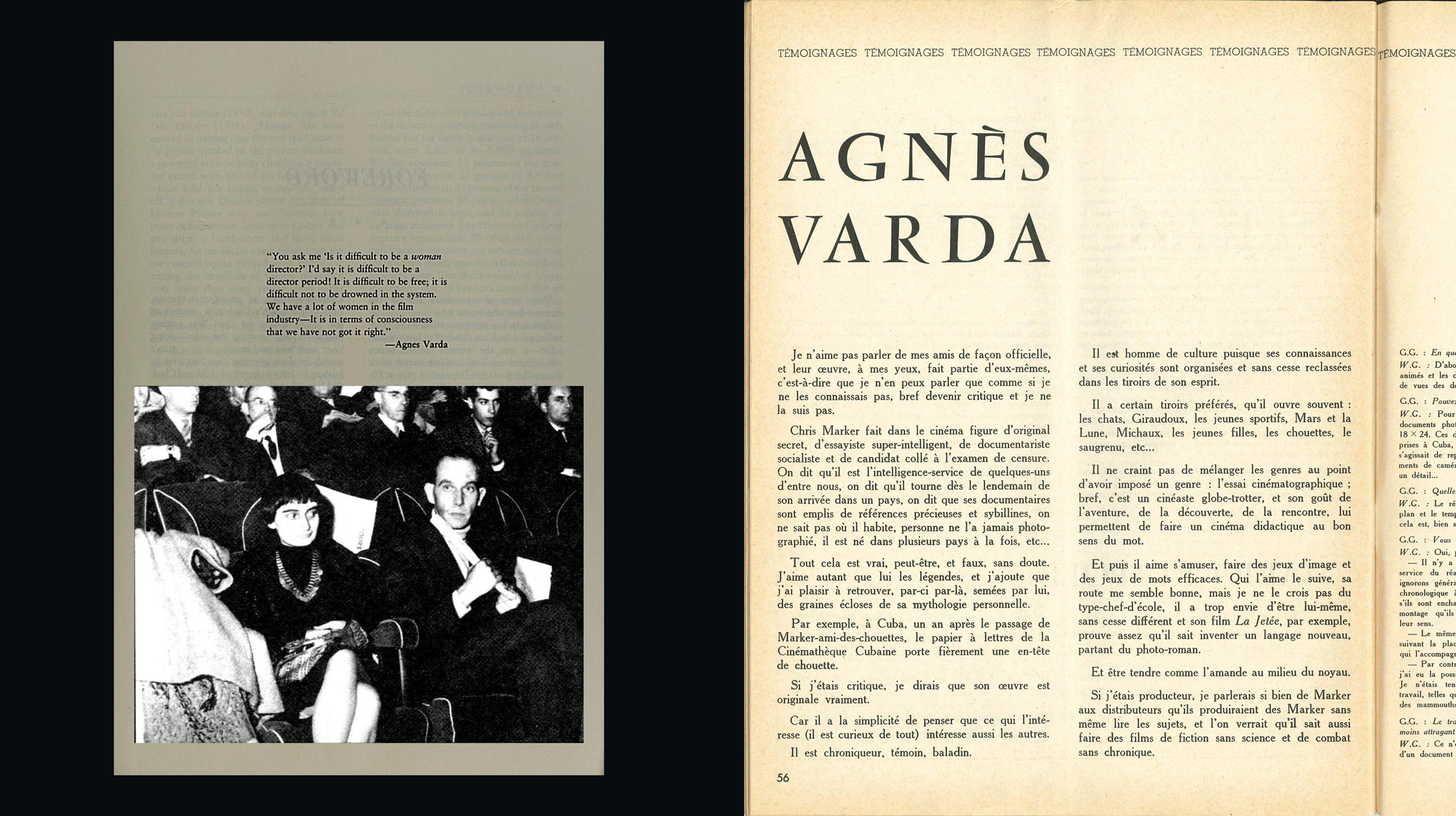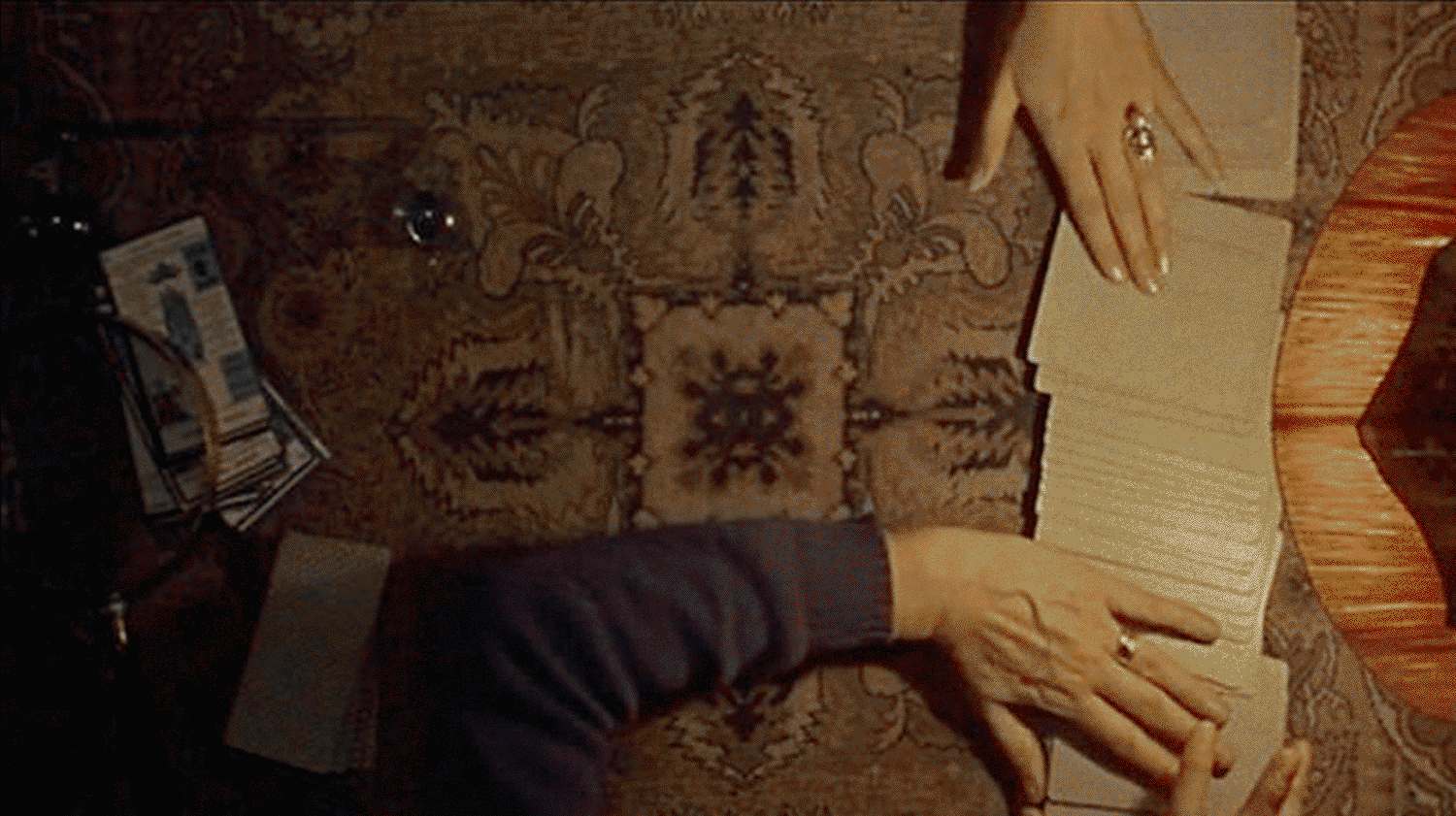 Agnès Varda was ready to shoot a film in color called La Mélangite, that should play in Sète, Venice, and the island of Burano, with Pierre Braunberger and François Truffaut as the producers of the film. Truffaut and Braunberger changed their minds before production had started and sold the contract to Georges de Beauregard, who had little interest in making a film with Varda. He suggested to Varda that she should instead make a, "little black and white film, […]which doesn't cost 32 million".
To make a virtue out of necessity, Varda decided to shoot the film in Paris to keep production costs down. Inspired by the painting of Death and the Maiden by Hans Baldung Grien, Cléo De 5 à 7 deals with the confrontation between beauty and death and raises the question of objectivity and subjectivity of time. Varda was also inspired by Diderot's novel Jacques the Fatalist, from which she took the character of the master and transformed him into a singer who strolls through Paris plagued by the fear of cancer. The name Cléo refers to the famous French Varieté dancer Cléo de Mérode from the Belle Époque.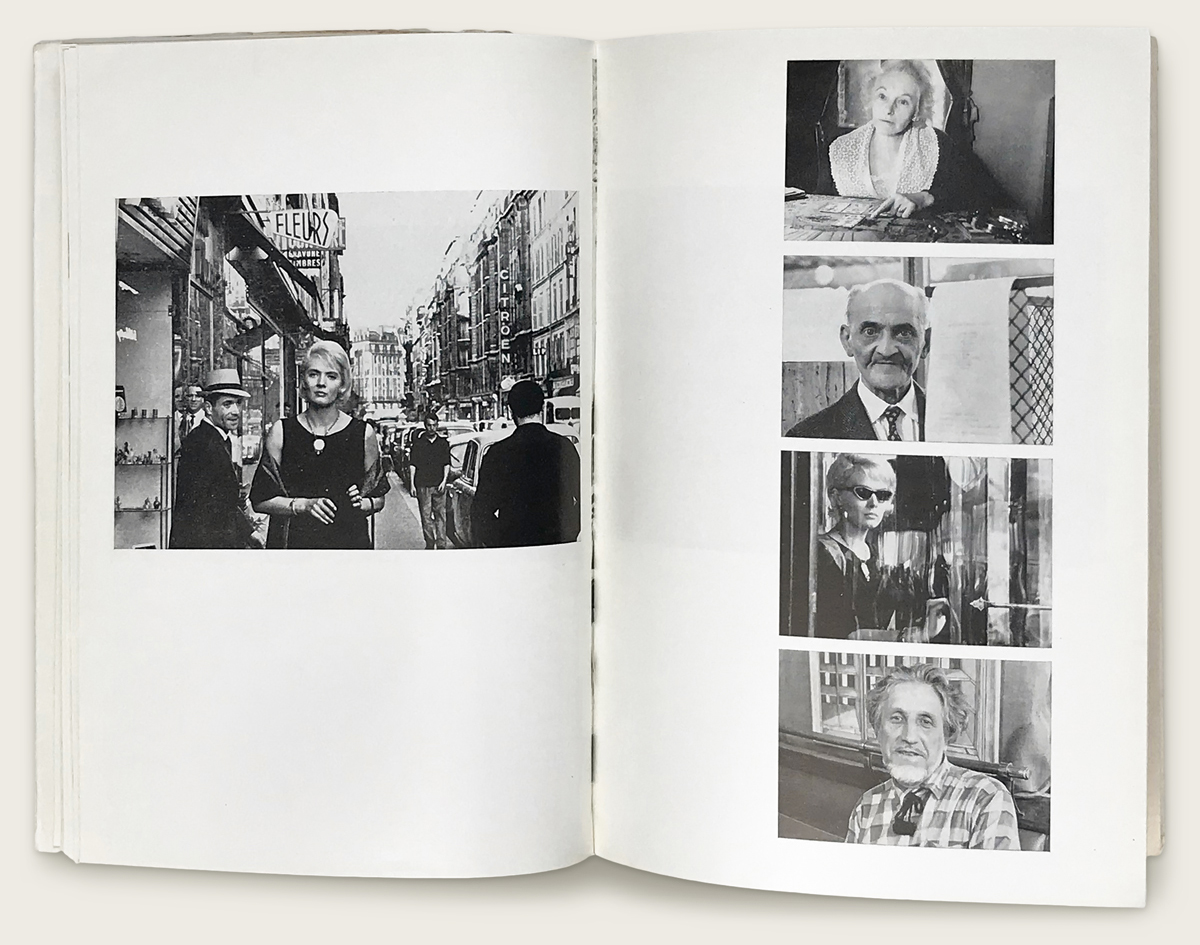 Cléo de 5 à 7, takes place on a Wednesday in Paris and follows Cléo (Corinee Marchand), a young chanson singer, in real time, anxiously waiting for her doctor's diagnosis. Agnès Varda described the film as a metaphor of feminism in which, halfway through the film, Cléo changes from a passive character who is described by the way people looked at her, to a woman who begins to look for herself.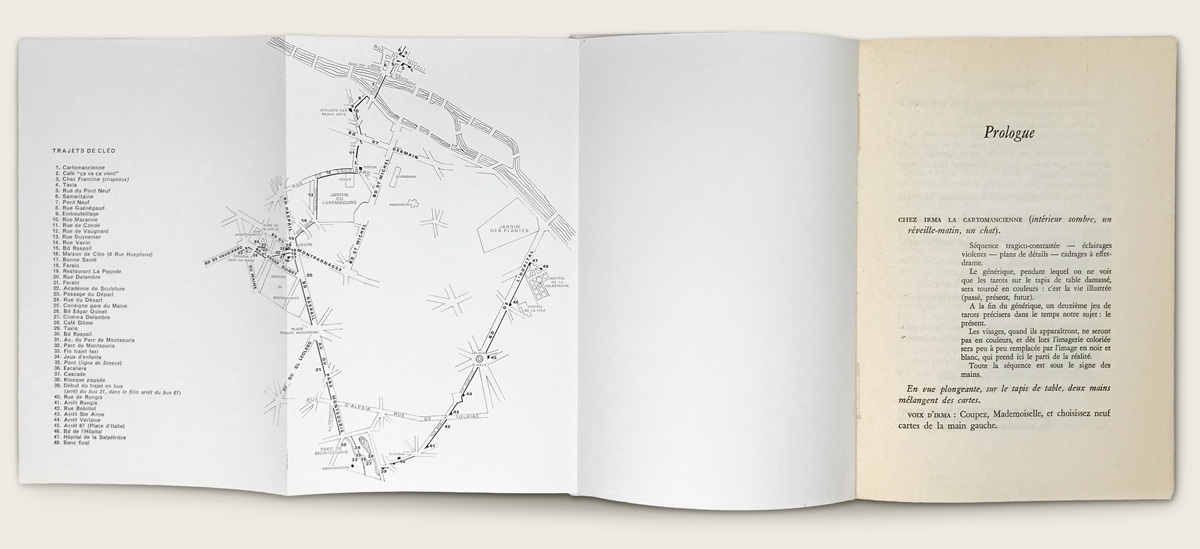 Varda par Agnès
was published in 1994, on the occasion of Agnès Varda's retrospective at the French Cinémathèque and is not to be confused with her last film of the same title, which was released in 2019.


Even though they are 25 years apart, both take the same approach – a look back at Varda's work, with Agnès Varda as the narrator.
In the press release for the film Agnès Varda recounts:
"[…] I published a book entitled VARDA BY AGNÈS. 25 years later, the same title is given to my film made of moving images and words, with the same project: give keys about my body of work. I give my own keys, my thoughts, nothing pretentious, just keys."
Varda par Agnès offers keys and it is almost impossible not to have the familiar voice of Agnès Varda in the head while reading her fantastic anecdotes accompanied by countless images. It's about writing, editing, documentaries and fiction. The book stretches from Varda's first film La Pointe Courte to Les 100 et 1 Nuits, which was released shortly before the book was published. A unique insight into Varda's life with an incredibly detailed filmography by Bernard Bastide.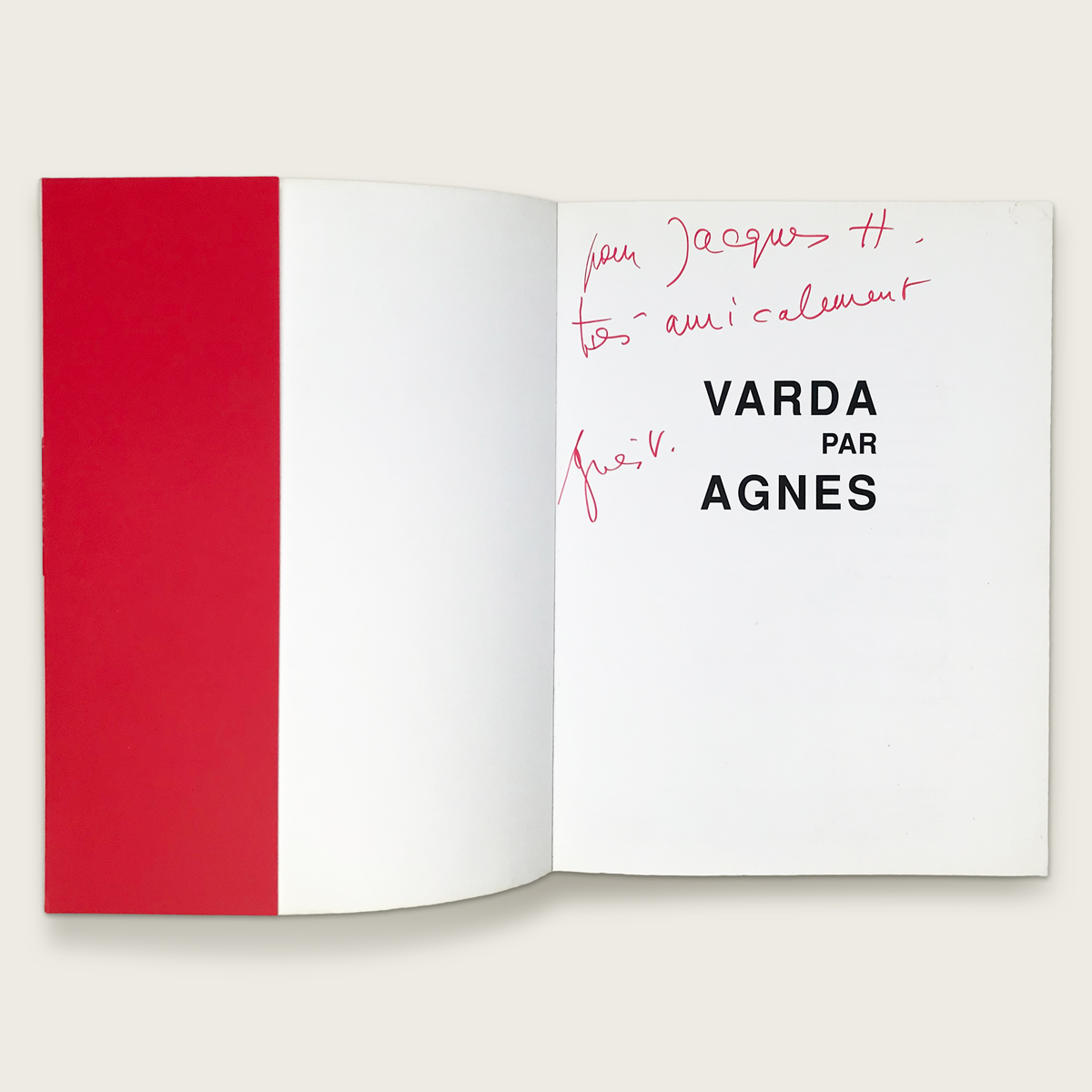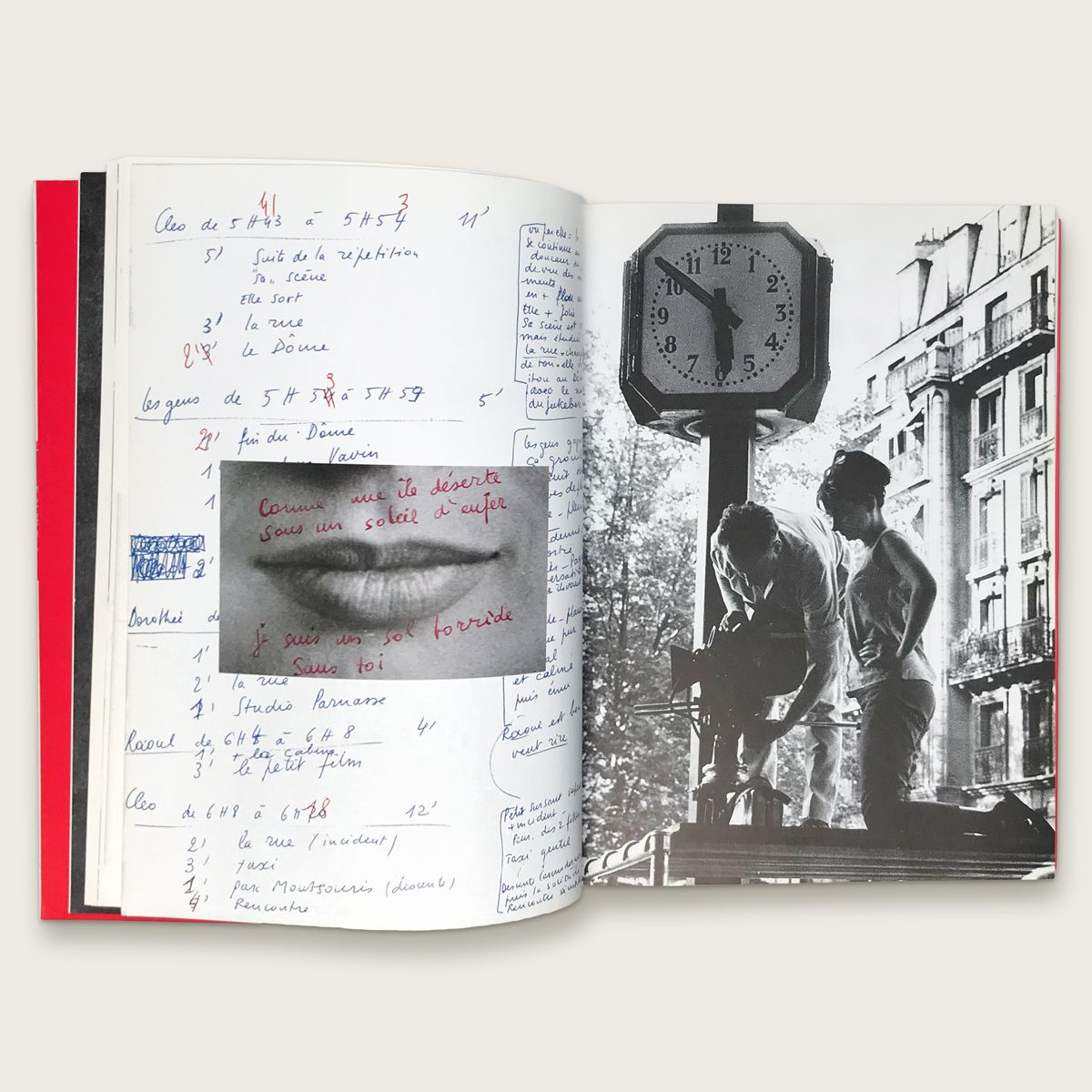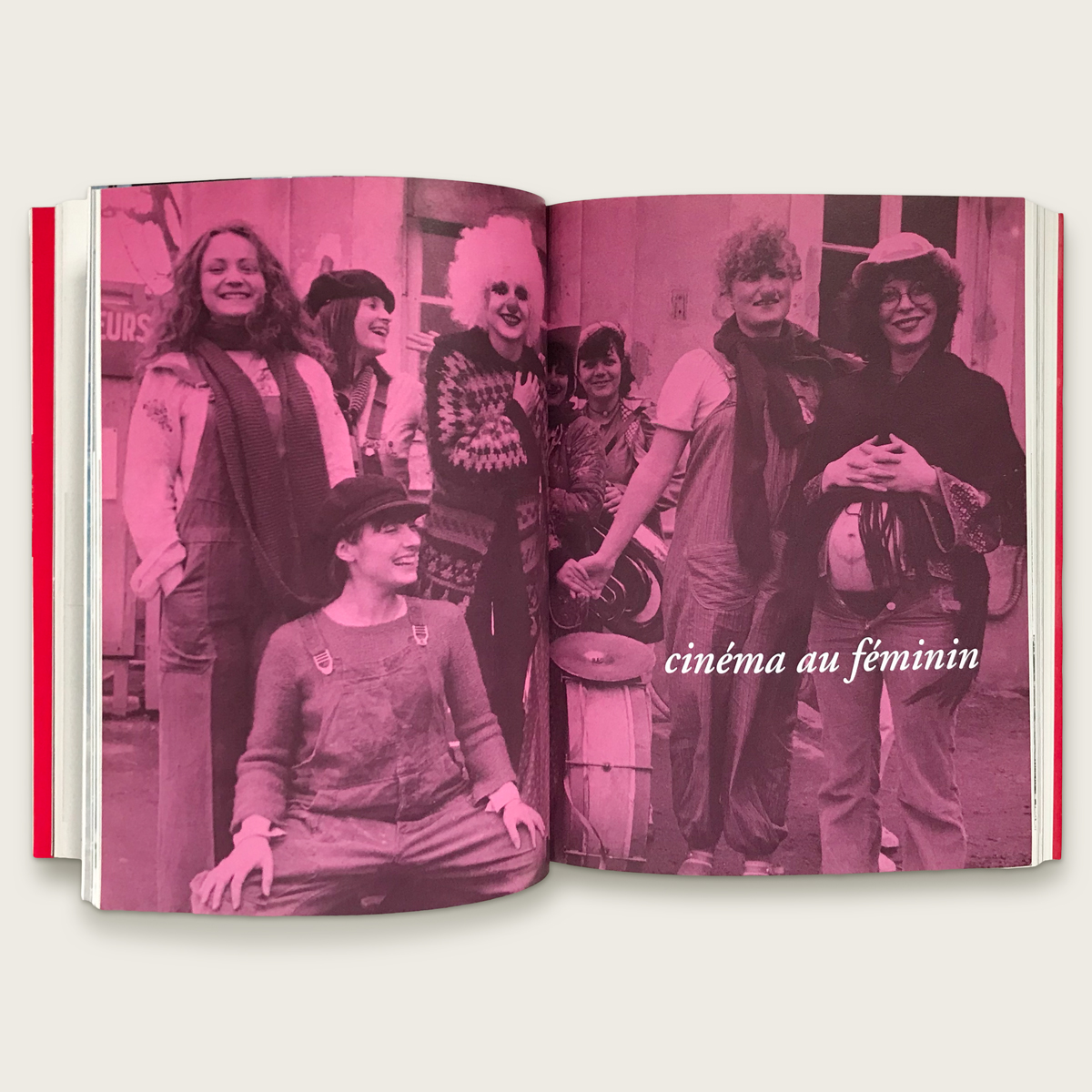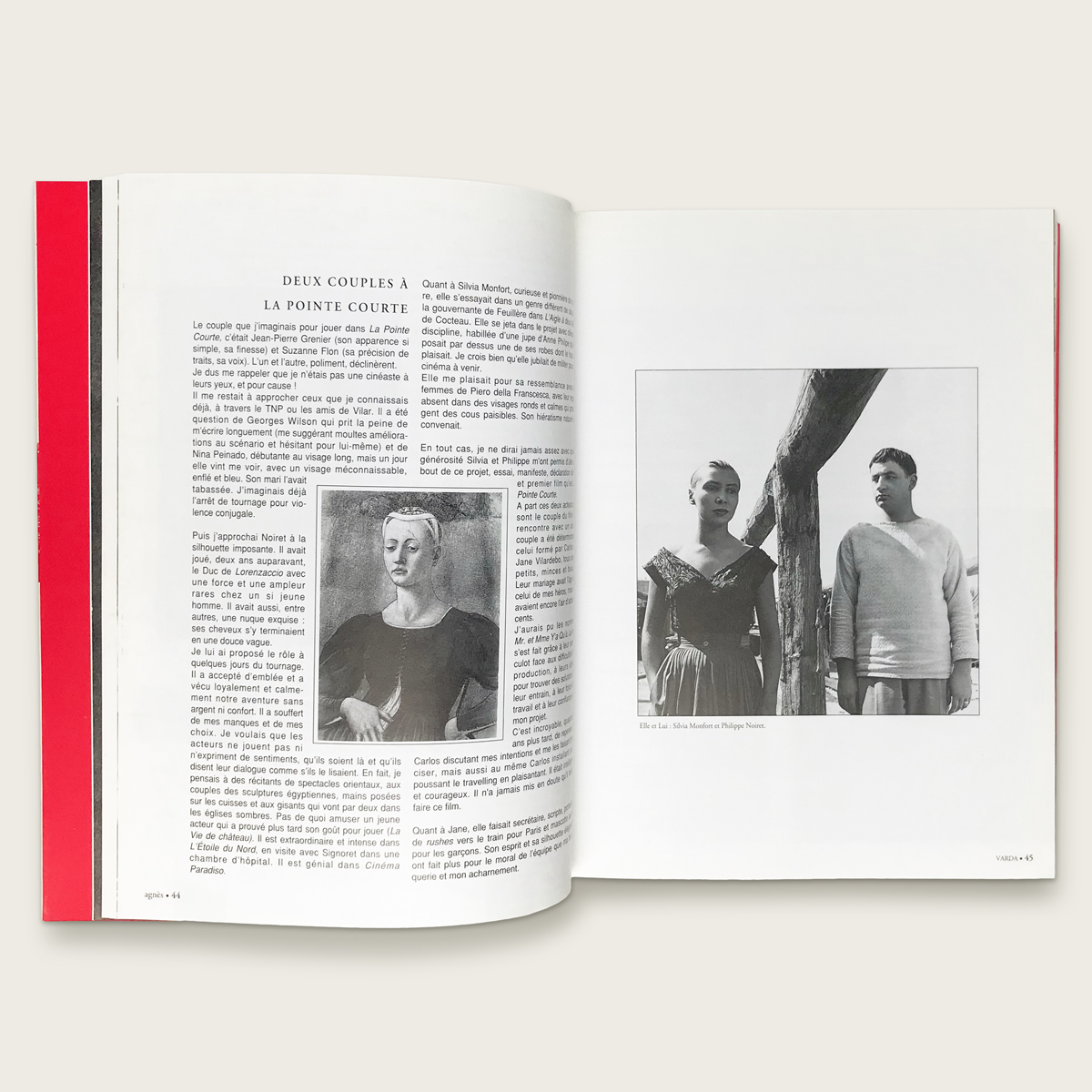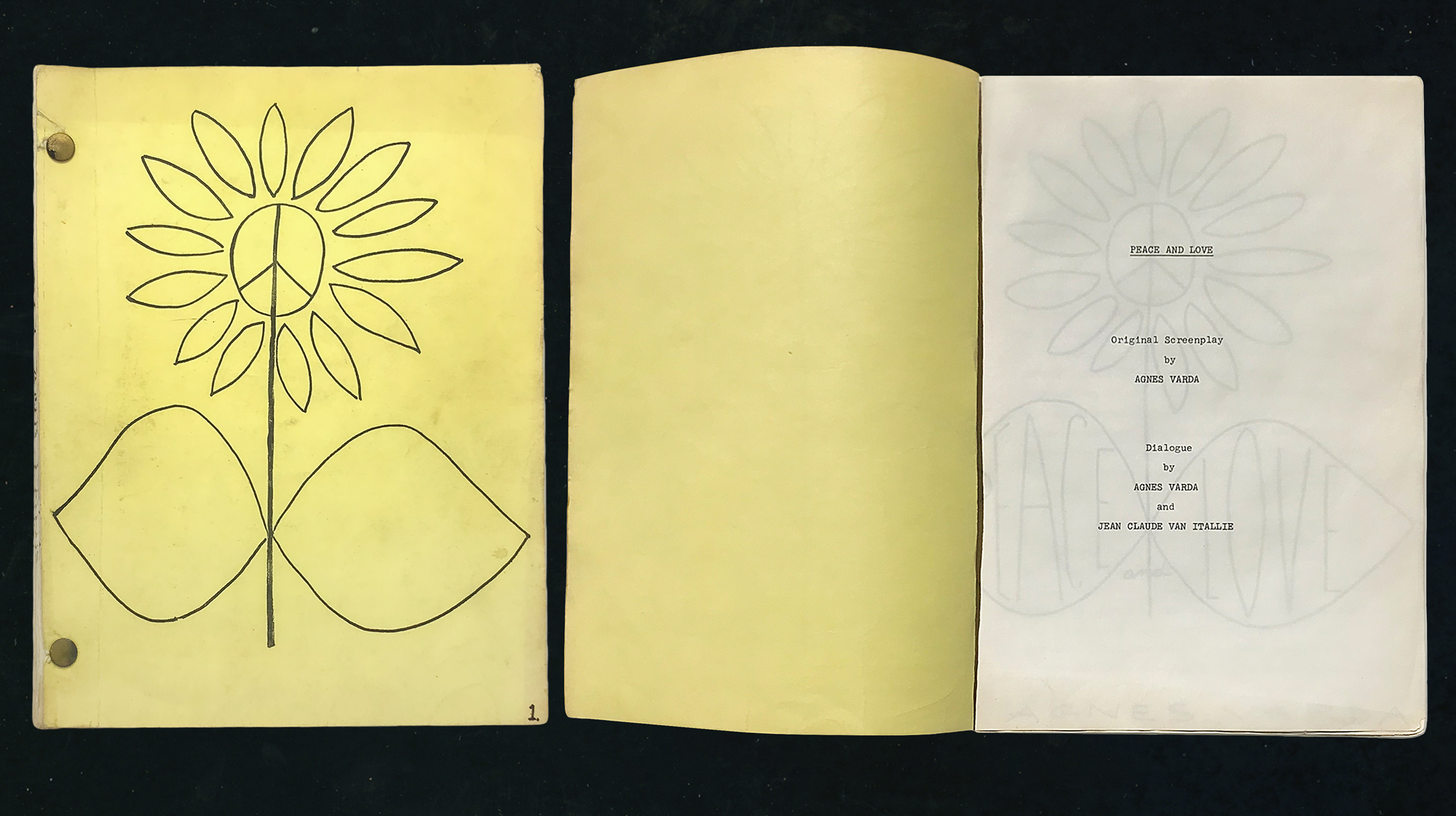 After the international success of Jacques Demy's film The Umbrellas of Cherbourg, Demy was offered to direct a Hollywood film with Columbia Pictures in 1967. Agnès Varda joined her husband to California, where she became fascinated by the counterculture that was taking place in Los Angeles – from the Vietnam War protests to the formation of the Black Panthers, the Women's Liberation, and the Hippie movement.


A year later in 1968, Varda completed her screenplay about the hippie culture in California, titled Peace and Love, which was commissioned by Gerry Ayres, the same producer who brought Jacques Demy to Columbia Pictures. The studio liked the script but would not grant Varda the final cut, leading to an abrupt end to negotiations with Varda walking away from the project.
In Varda's film, Les plages d'Agnès [The Beaches of Agnès] from 2008, Gerry Ayres adds to this incident:
In an interview with the Guardian, Varda recalls, "it was disgusting to do this to me. I slapped him. But he deserved it."


In the end, the film was never made, unfortunately also for a young unknown actor who, according to a New York Times article was supposed to star in Peace and Love – Harrison Ford.


This is an absolutely scarce original screenplay of Peace and Love by Agnès Varda that was never made. Playwright Jean-Claude van Itallie is also credited with Varda for writing the dialogue. The script's appendix contains the lyrics to Molly's song or, In My Greenhouse Grow.