A French delegation consisting of Chris Marker, playwright and journalist Armand Gatti, philosopher Paul Ricœur, and sociologist René Dumont had the rare oppertunity to visit China in 1955, organized by l'Association des Amitiés franco-chinoises.


During this trip in 1955, Marker made his film Dimanche à Pekin. Other experiences from this trip were published in the essay La Chine, porte ouverte, consisting of three articles: Certitudes et incertitudes d'une révolution by Paul Ricœur; Prose pour Pékin by Armand Gatti; and Réforme agraire et collectivisation accélérée by René Dumont, published in the Januar 1956 issue Esprit.


For this issue, Chris Marker created a 12-page supplement pamphlet, titled Clair de Chine, presented as "a film in the guise of a greeting card" that takes an alternate approach to his visit to China. Clair de Chine, which was actually the original title of Dimanche à Pekin, includes photographs and texts by Marker that provide further perspectives on the film's themes.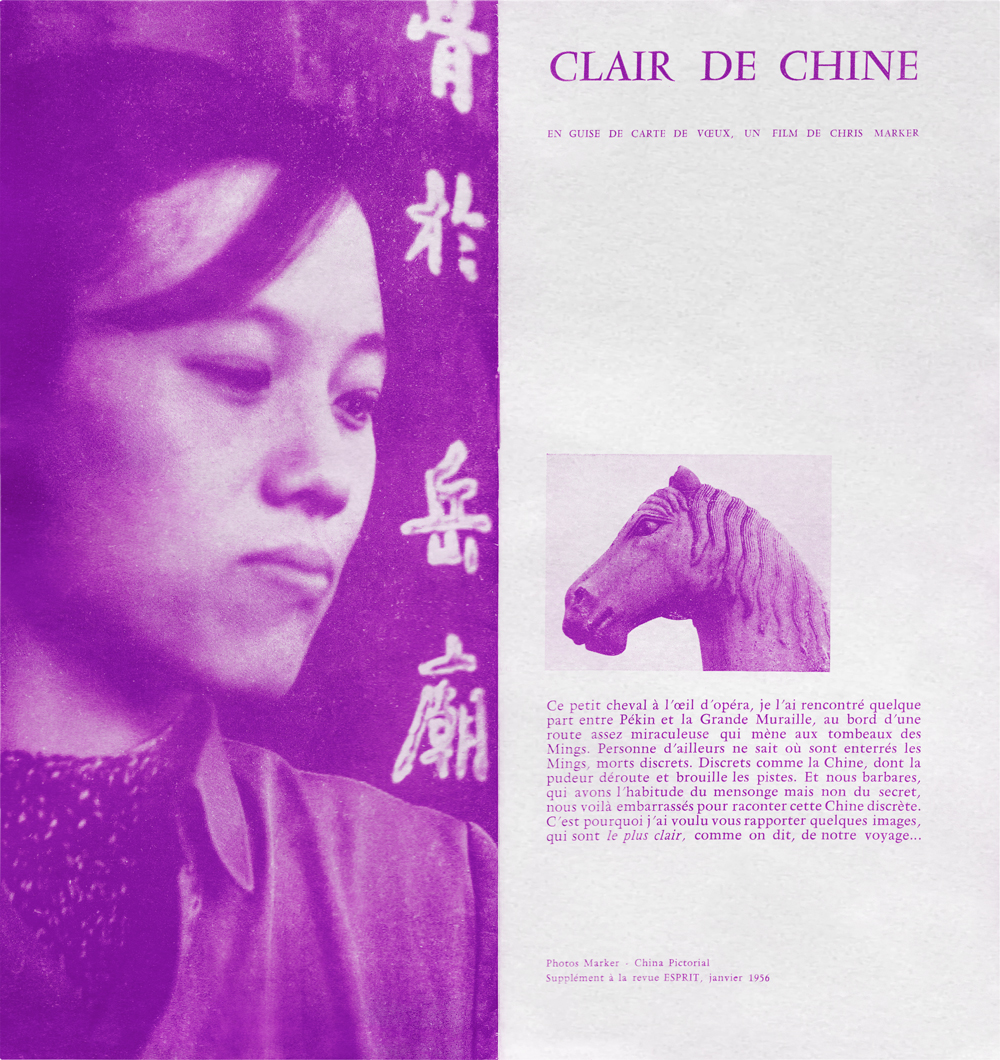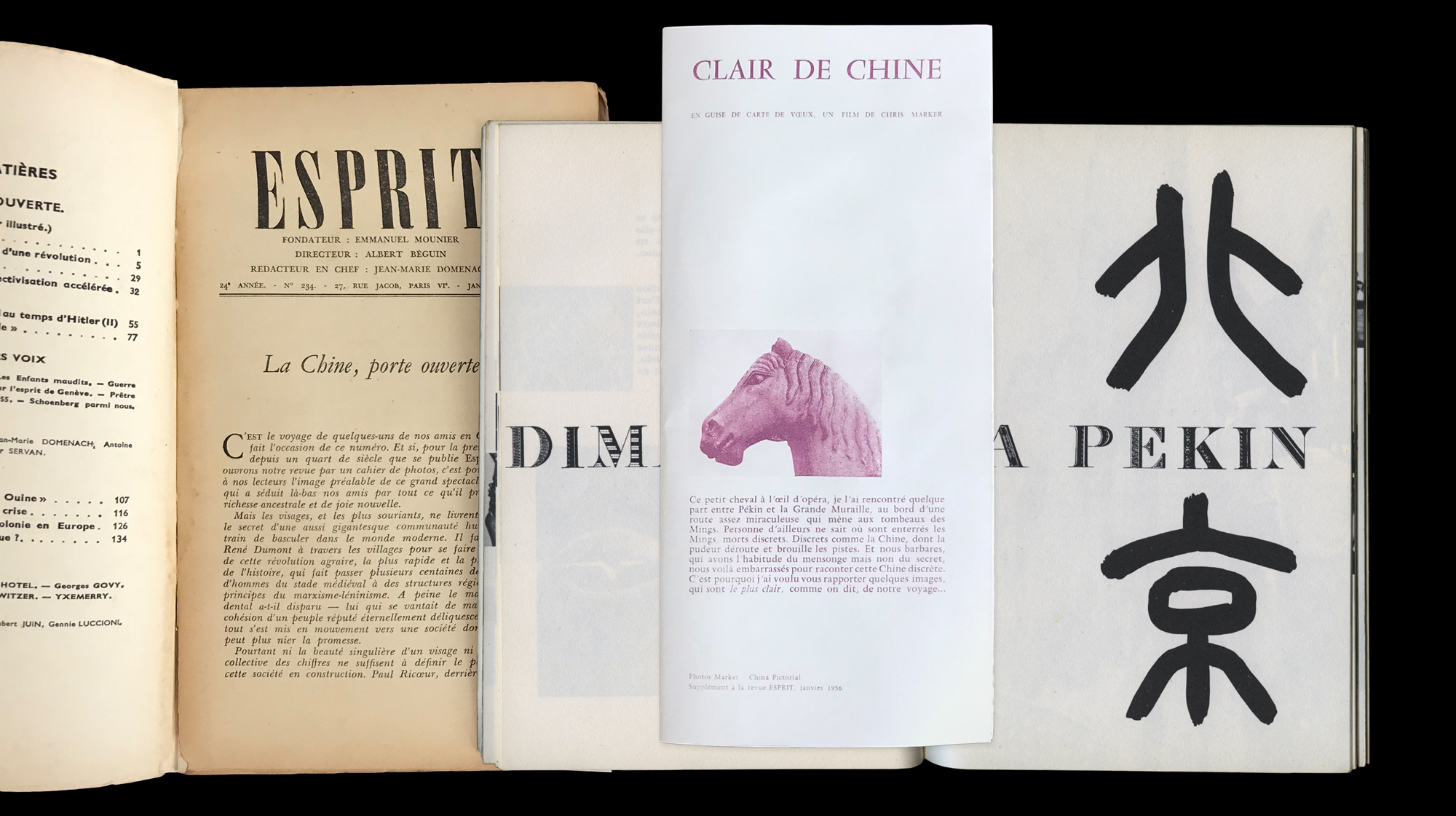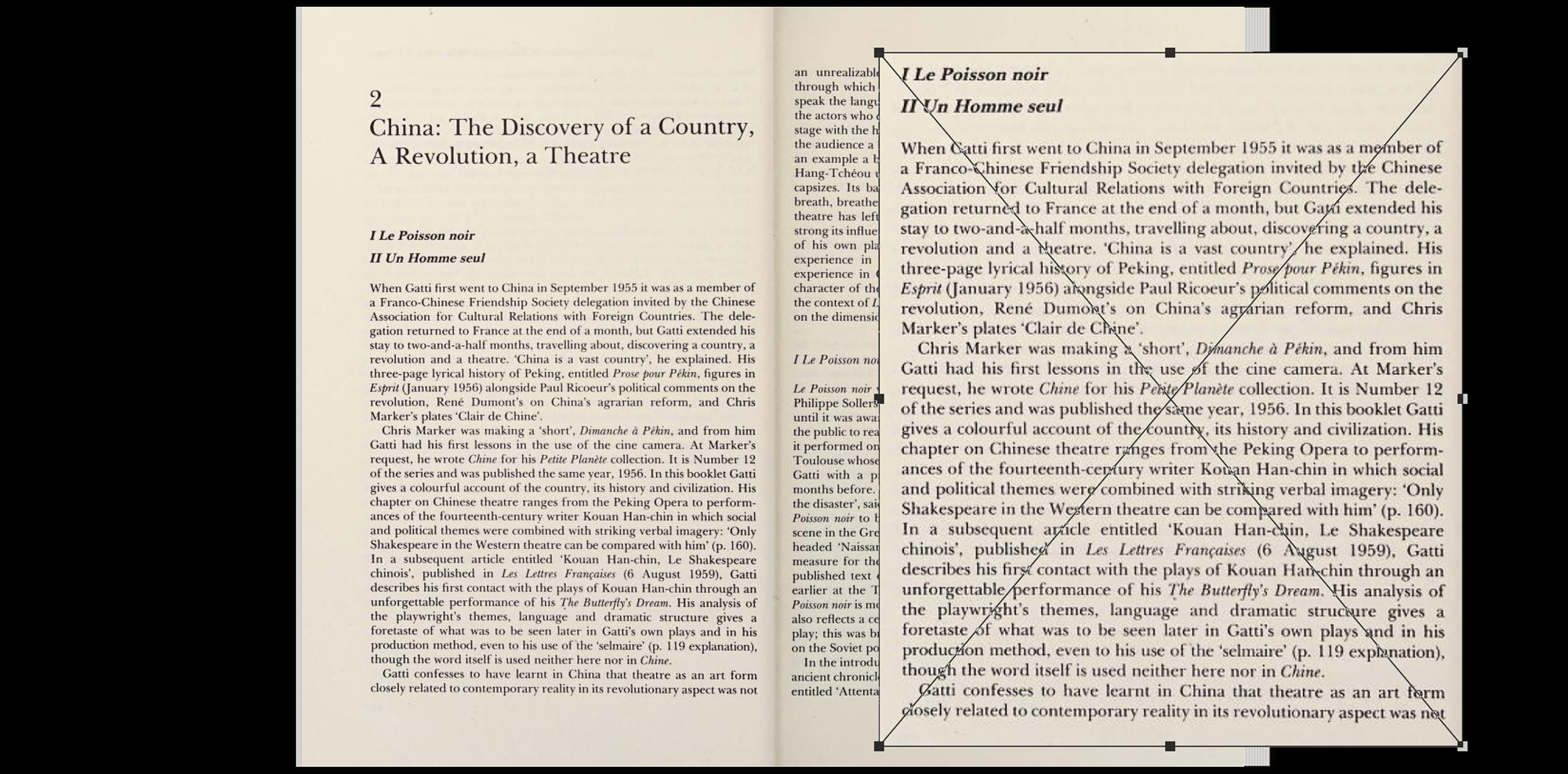 "We embarked – Pierre, Gatti, Vierny and me – at the end of August 1957 on an adventure[…]" – Chris Marker


In 1957, the group of Chris Marker, Armand Gatti, André Pierrard and Sacha Vierny was one of the first to travel and work in Siberia during the Cold War.


Two independent works emerged from this trip – Chris Marker's Letter from Siberia (1957) and Armand Gatti's Sibérie – zero + l'infini (1958), which was one of the first Western reports on Siberia since 1917.


Armand Gatti, one of the most acclaimed theater playwrights of the 20th century, had already written eight plays and had received the Albert Londres Prize for his earlier work before pursuing a career as a journalist.
Gatti came back from Siberia with eleven articles about the region, which were published in Libération, the underground newspaper of the Résistance movement.


The following year Armand Gatti continued to work on these articles, which then became the book Sibérie – zero + l'infini, accompanied by Chris Marker's photographs. Sibérie – zero + l'infini tells the story of the indigenous people of Siberia and their history, geology, economy and folklore, all of it intertwined with the ancient story of Siberia from old Chinese texts.


Armand Gatti provided with this book an important document on the region and its history, which also includes further background information on the development of Marker's film Letter from Siberia.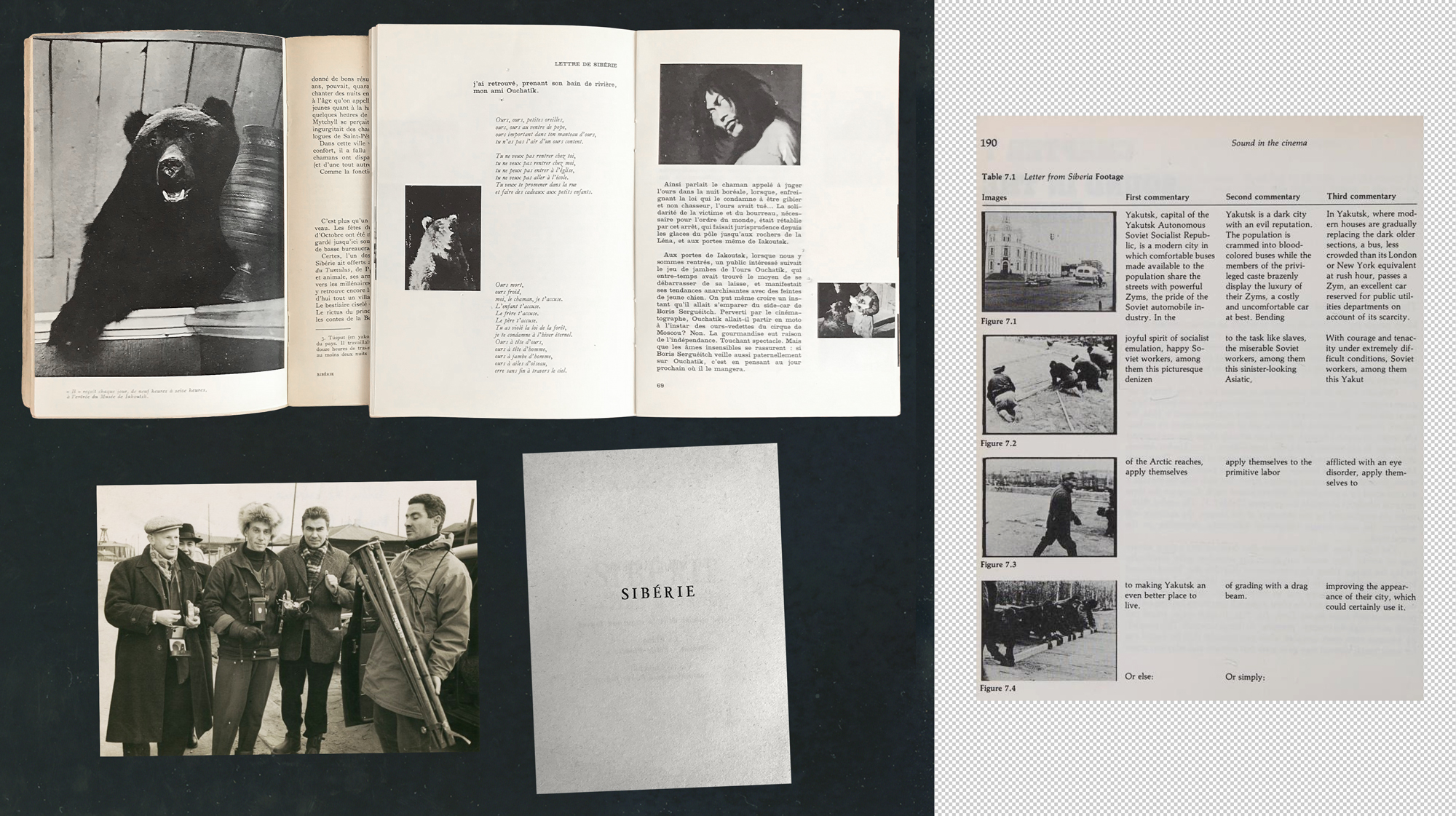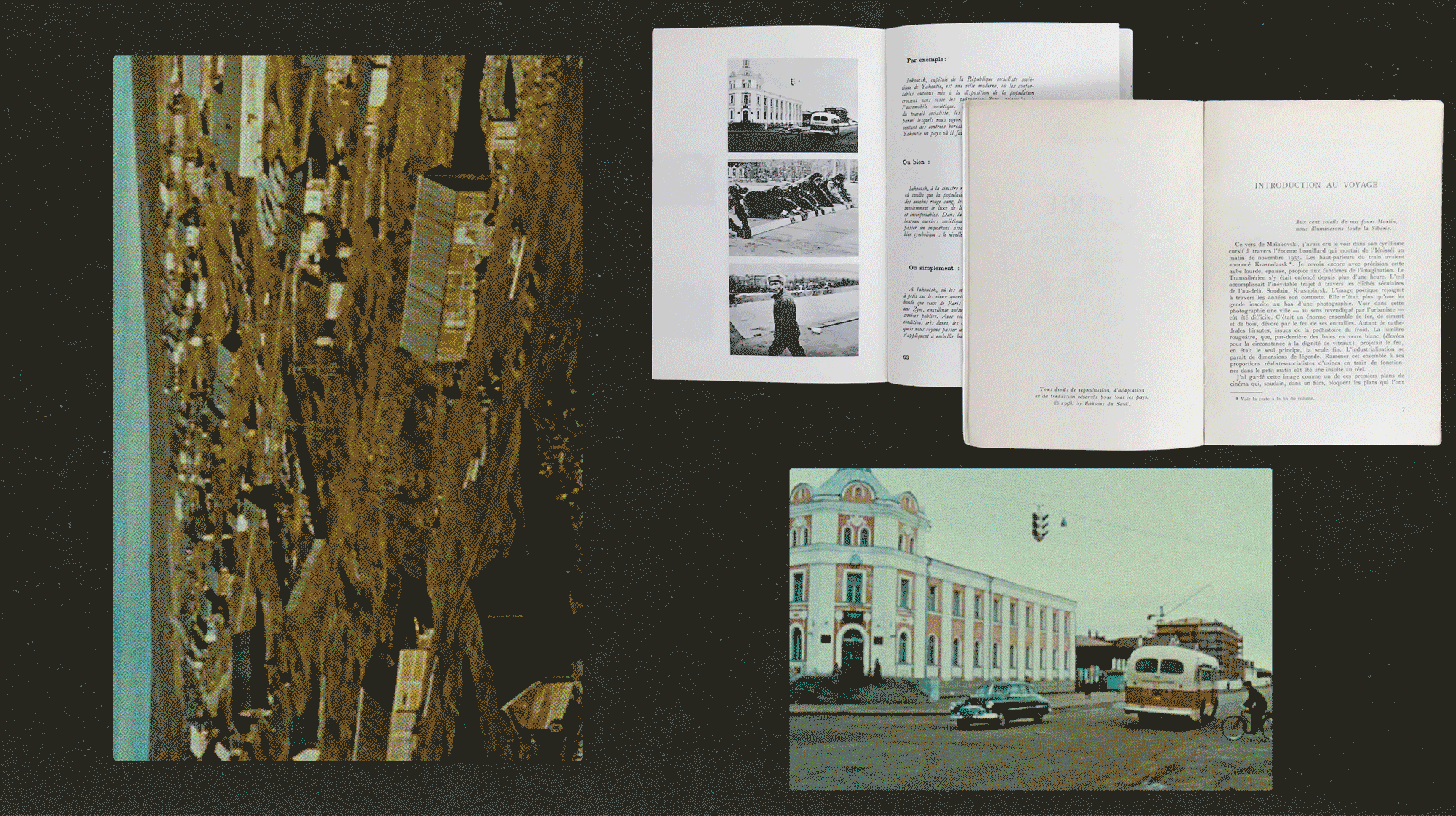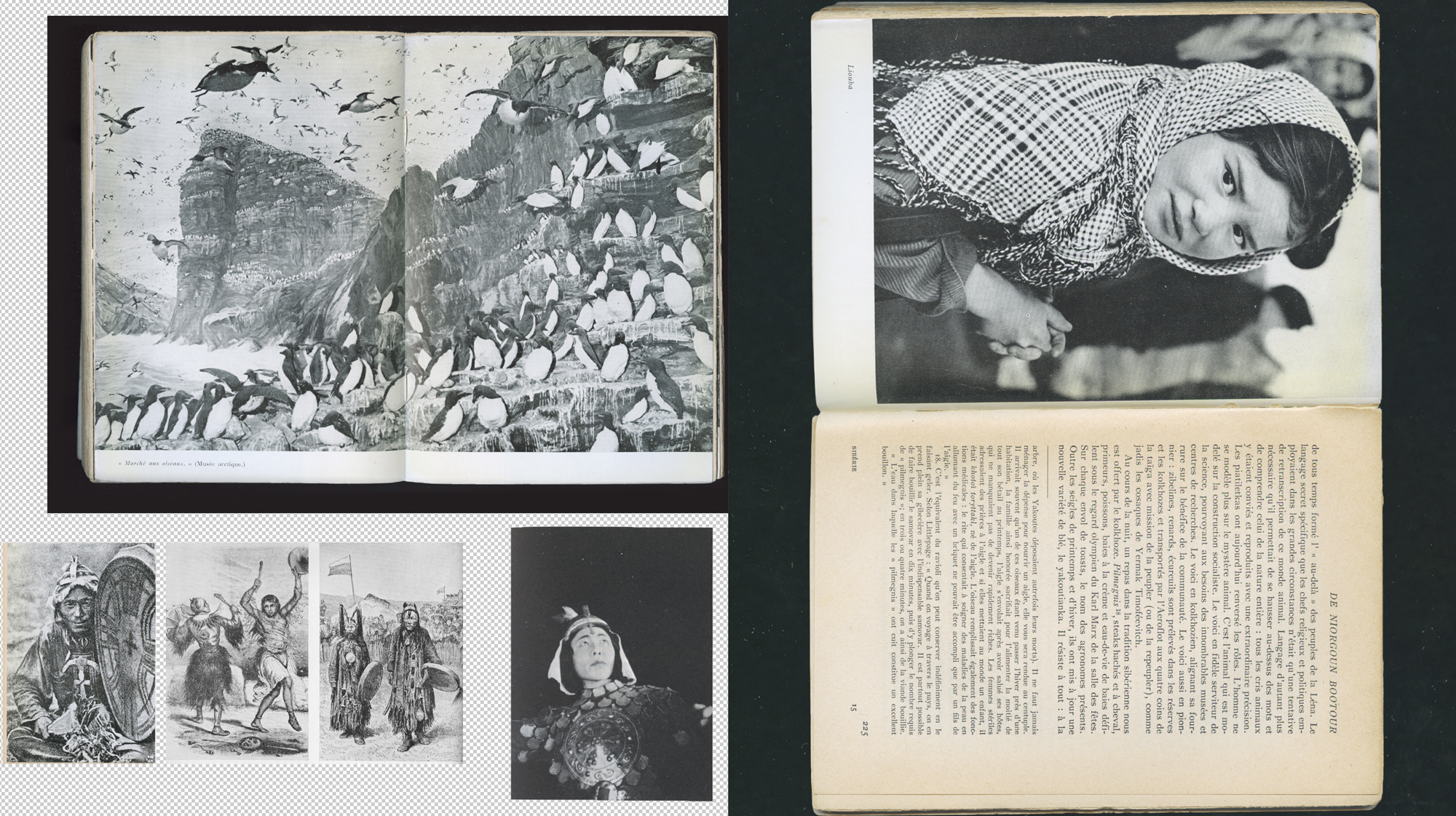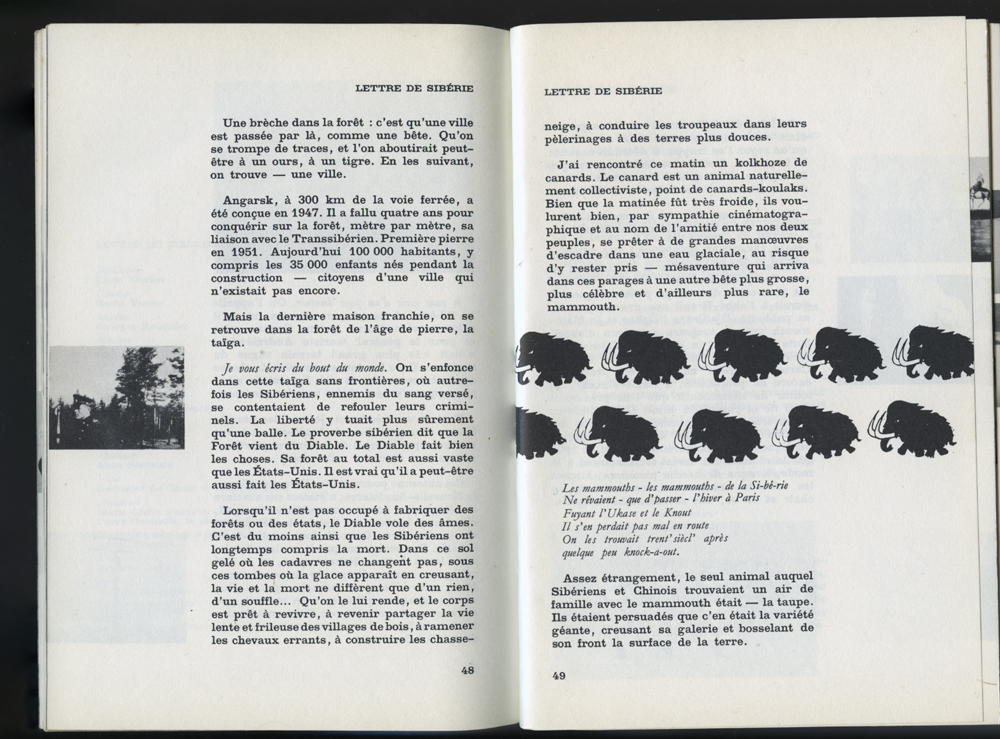 For the first time in 1958, North Korea invited a Western delegation to visit the country after the Korean War.


It was a French delegation, who was allowed to enter the county, among them were artists, such as filmmaker Claude Lanzmann, songwriter and actor-filmaker Jean-Claude Bonnardot, journalist and playwright Armand Gatti, and Chris Marker.


Only a year earlier, a similar delegation with Chris Marker and Armand Gatti had traveled to Siberia. Marker transformed his expierence into a film Letter from Siberia, and Gatti into a book Sibérie – zero + l'infini.

This trip to North Korea led to a similar outcome, but this time it was Armand Gatti who returned with the film Moranbong and Chris Marker with the book Coréennes.


Coréennes is the first and only book in the Courts-Métrages [Short Films] series at Éditions du Seuil, which focuses less on the political aspect of North Korea, and more on the ordinary people.


As Marker states in the end of the book, "at the end of this journey, there is human friendship. The rest is silence".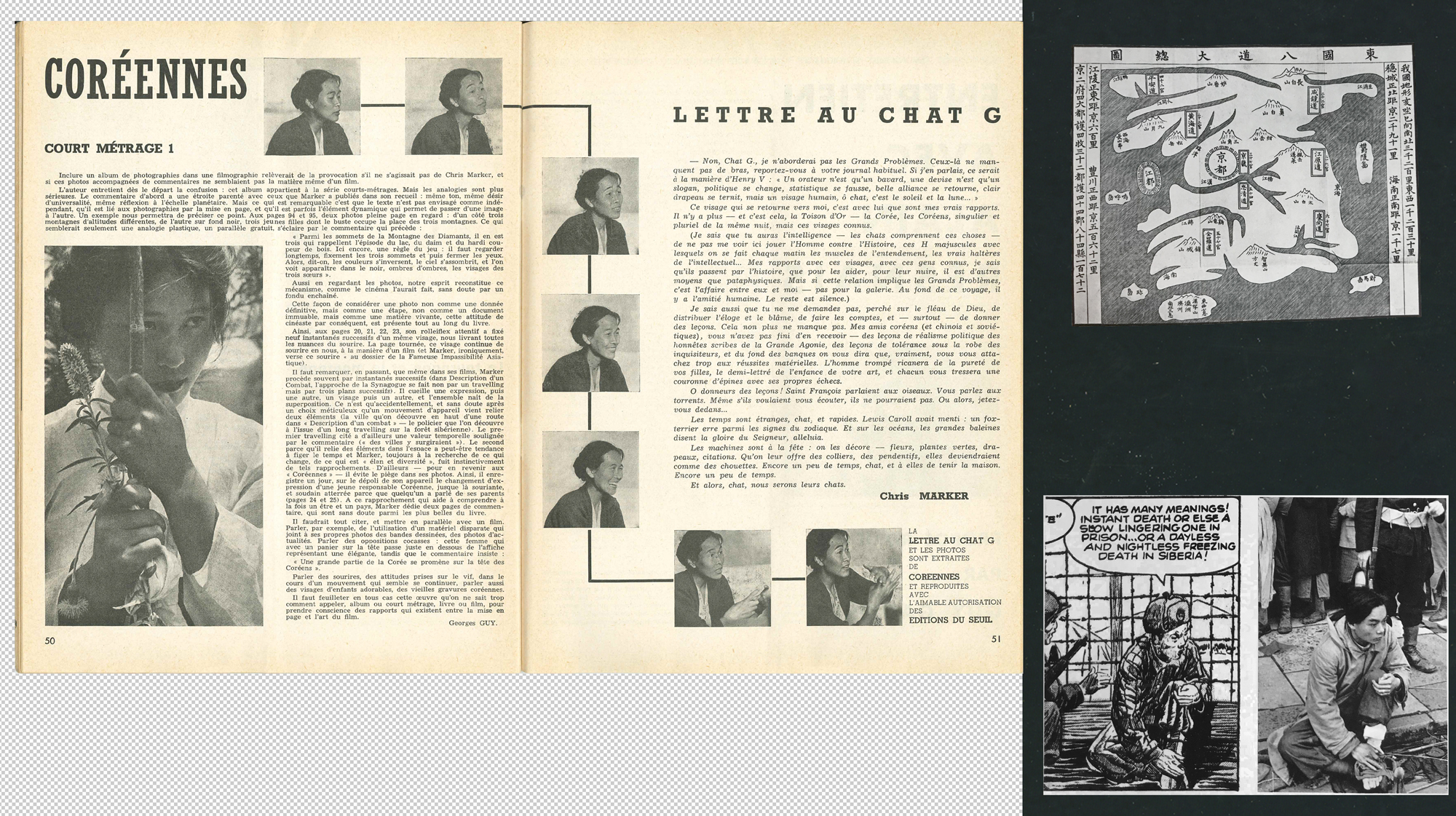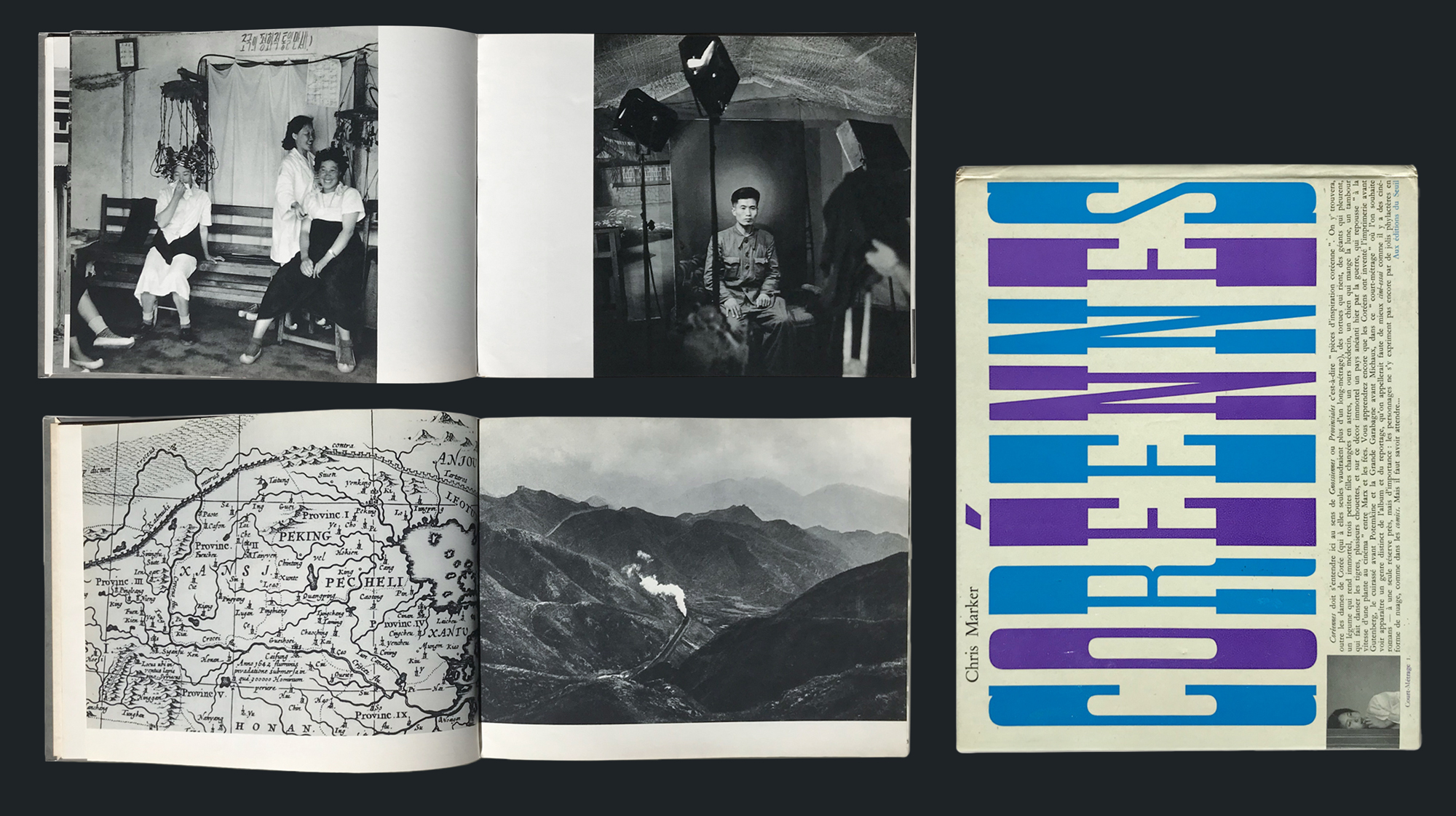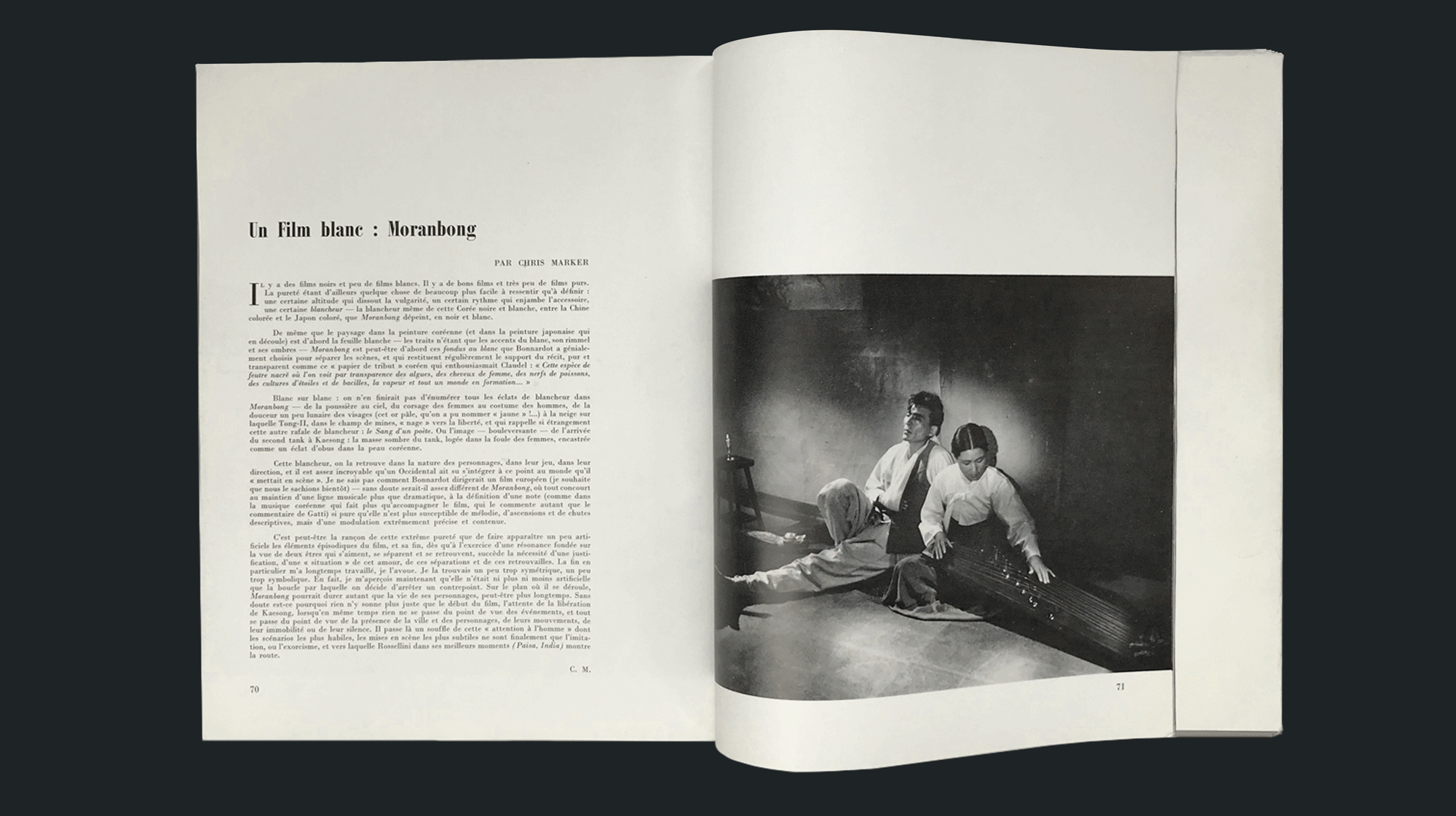 Armand Gatti's film Moranbong is a deeply humanist, pacifist and universal work that tells the story of two lovers separated by war and functions as a parable for an equally divided country.


It is the only cinematic collaboration to date between France and North Korea and was censored in both countries. In France, the film was censored from 1959 to 1963, for attacking France's foreign policy.
Description d'un combat was originally to be released under the title Letter from Tel Aviv, as a sequel of Letter from Siberia. Twelve years after Israel's declaration of independence, Chris Marker traveled through Israel documenting the young state with humor and poetry, connecting it to ancient mythology.
One year after Chris Marker made his film Cuba Si, Agnès Varda was invited by the Cubans for the celebrations of New Year's Eve 1961/62 (four years after the Revolution). She filmed and photographed Cuban life with a Rolleiflex and Leica, resulting in her film Salut les Cubains from 1963.
La Renfermée La Corse is a collaboration between Marie Susini and Chris Marker with a beautiful and bittersweet essay by Susini on her birthplace Corsica, accompanied by Chris Marker's photographs.


Both the text and the photographs break with the usual clichés of Corsica as a vacation destination and show a more rugged environment of the island.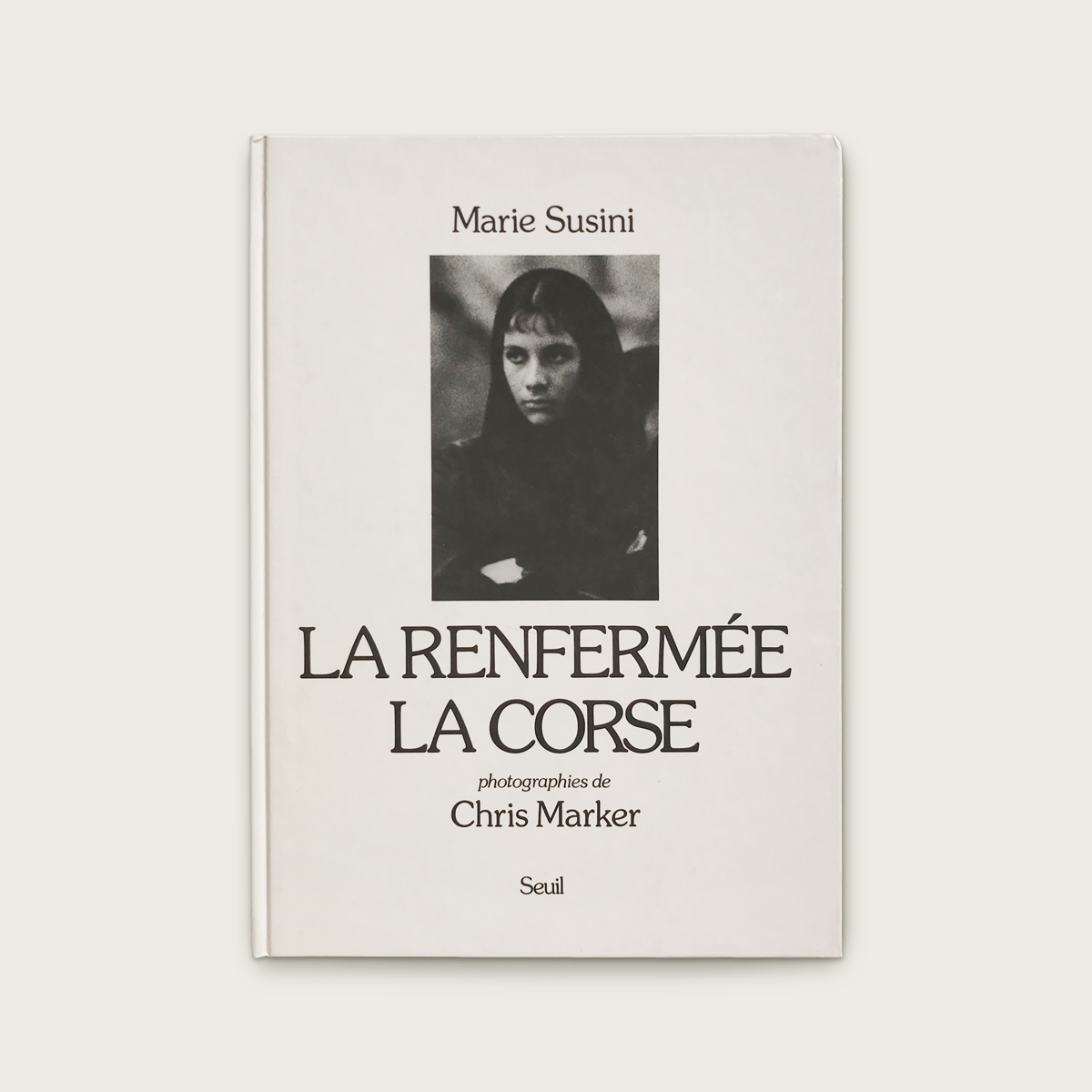 At the age of six, Marie Susini was raised by nuns on Corsica, a period in her life that she processed in her first novel Plein Soleil (1953). She later left Corsica for Marseille and then Paris to escape insularity and the confines of traditional gender roles.


Corsica permeates all of Marie Susini's work, which was praised early on by critics such as Albert Béguin.